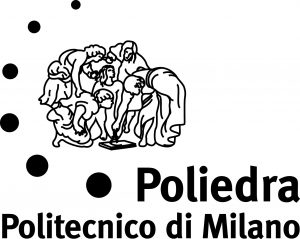 Poliedra is a consortium at Politecnico di Milano, one of the most important Italian universities for engineering, architecture, and design. Since 1992 the consortium has developed and applied innovative methodologies and tools in the fields of mobility, environment, decision aiding and participation in public decision processes. With a staff of twenty experts, Poliedra provides technical assistance and consulting services and carries out applied research and training activities with a strong interdisciplinary approach. As regards mobility and transport, Poliedra has a long-established experience in projects and activities on flexible transport services, shared mobility, e-mobility, mobility management, traveler information systems, soft mobility, demand management strategies, planning and regulation of public transport services, and urban logistics.
Starting from the Fourth Framework Research Programme, Poliedra has participated in several European projects, designed and developed in partnership with research centres, public bodies and consulting firms.
For some of those projects, Poliedra undertook the role of coordinator. Besides mobility, Poliedra has been involved in EU funded projects concerning decision support systems, environmental assessment, stakeholder engagement, behavioral change, decision support systems, and future strategic planning.